Morley-Ellenbrook Line
UPDATE: 30th Jan 2022
Ground has been broken on the new Ellenbrook Station site, as part of the METRONET Morley-Ellenbrook Line.
Ellenbrook Station will be in the heart of Ellenbrook's town centre and will offer quick and easy transport services to more than 46,000 residents currently living in and around the suburb.
The first stage of work includes bulk earth works, installation of in-ground services and station footings, followed by structural works, facades and interior.
Works on the Morley-Ellenbrook Line are expected to be completed and operating for passenger services in late-2024 and this work will support 6,500 jobs.
_____________________________________________________________________________________________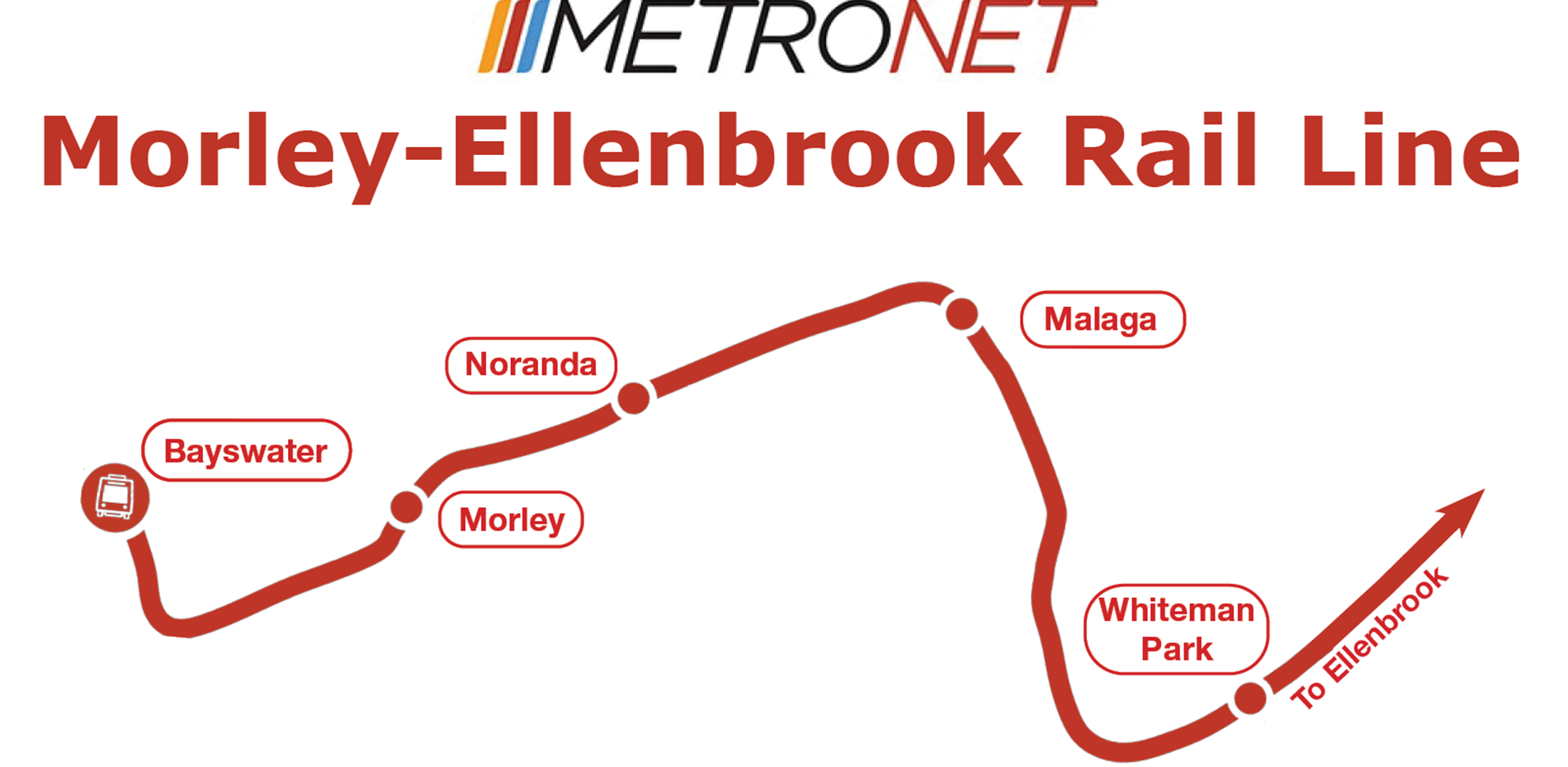 Construction Under Way On The Morley-Ellenbrook Rail Line
Construction has commenced on the Morley-Ellenbrook Line, which includes building and commissioning 21kms of rail track and five stations.
Once complete, Passengers travelling from Ellenbrook Station will have a seamless 30-minute journey to the CBD, with no need to transfer trains. This is almost half the current travel time for local residents using public transport.
Earlier this year, 30 January 2022 marked a special day as we turned the sod to start construction on the new Ellenbrook Station, the most northern of the five new stations along the new 21-kilometre rail line to Perth.
The Morley-Ellenbrook Line will support more than 6500 jobs over the life of the project.
Recently the McGowan Government delivered on a major election commitment to return railcar manufacturing to Western Australia with the opening of the Bellevue METRONET Railcar Facility in June 2021.
246 METRONET railcars and six new Australind railcars will be built, tested and maintained at the new Bellevue facility with at least 50 per cent of the contract value will be delivered locally.
By having the new railcars built in Bellevue, the McGowan Government is returning rail manufacturing to the Midland area for the first time since 1994 when the Midland Railway Workshops were closed by the then Liberal Government.
________________________________________________________________________________________________________________________________
ELLENBROOK TRAIN STATION
Ellenbrook Station is in the heart of Ellenbrook's town centre, located south of The Parkway and west of Civic Terrace. The station will offer a new transport option for the 46,000 residents living in the area. It has been designed to support this growth, while making the most of vacant land around the station.
The Noongar place name for Ellenbrook is Karla Gnara (Karla Gnara) and the narrative is 'firestick farming or consumption (eating) by fire'.